Let's have fun with this free coloring page (printable PDF). It features different kawaii animals playing around on a bookshelf, pulling funny kawaii faces, and being cheeky.
Grab your free printable PDF by clicking the image below or the "Download PDF" link. Please enjoy it for personal use, and give me credit (coloring page by Tatyana Deniz) if you decide to share it.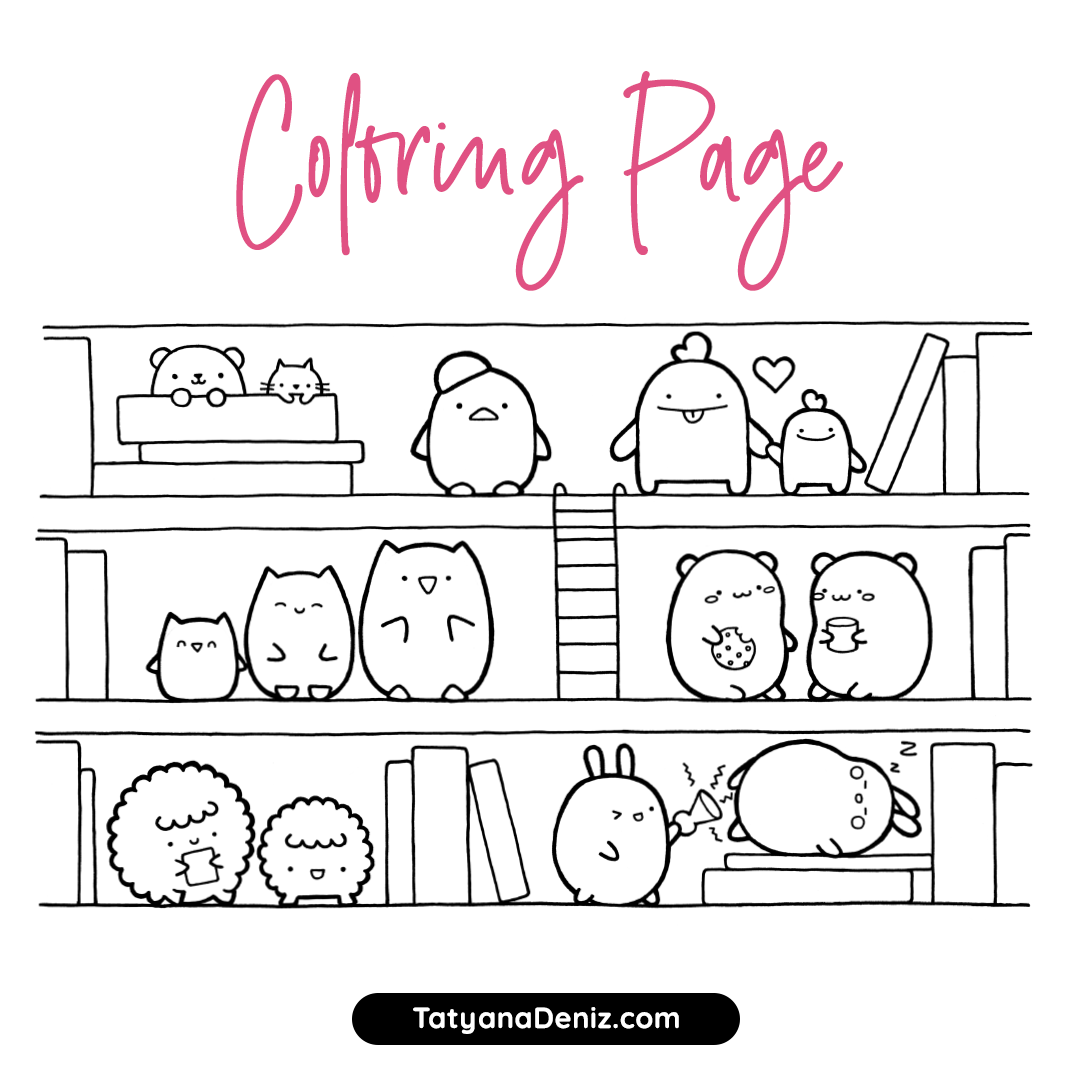 Which one is your favorite? 🙂 Let me know in the comments below this post.
Coloring Tips for This Free Coloring Page
If you are feeling adventurous, go for those crazy and unexpected color combinations. You never know what you may discover! Or try the soft and pastel colors for a classic "kawaii" look.
Keep the colors in the background more muted (lower saturation) and make the characters brighter (higher saturation).
Print out a few copies of the coloring page, so you can experiment without the fear of messing up.
Another fun idea is to add titles to the books on the shelf. This will make your coloring page really unique to you, and tell an interesting story about your life. Hey, it might even motivate your little one to practice writing!
Join Our Facebook Group
Want to meet people like you, who love kawaii? Become a Kawaiian!
Join our free Facebook group to share your coloring efforts and to be inspired by others. You will find so much motivation and inspiration in the group!
CLICK HERE to join our private Facebook group
If you post on Instagram, please tag me @tatyanadeniz and use this hashtag #tatyanadeniz so I can see your beautiful pages.
Share the Love
If you enjoyed this free coloring page with funny kawaii animals and faces, please consider sharing it with your friends using the buttons below.